Germany is becoming one of the most international markets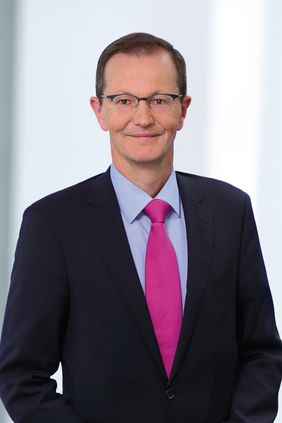 For over 20 years, Timothy Horrocks has been responsible for Nuveen Real Estate's continental European real estate investments. With his unique on-the-ground experience, he explains what opportunities and challenges the German real estate markets currently offer in a Europe-wide comparison.
What are the current advantages and disadvantages of the German commercial real estate market compared with other locations in continental Europe?
In the current environment, the German real estate market has seen many of the same challenges as its European counterparts, however in some sectors we do anticipate that the German market has characteristics that will help it recover more quickly. In the office market, very low supply and vacancy offer some stability. There is also a large number of private companies, where information and relationship building are crucial, so a return to the office is likely for most people. Of course, we imagine that offices will be used differently and some dedensification is to be expected, but overall, they should hold up well.
Looking to logistics, Germany is seen as the centre of Europe, so the market has remained very active, and particularly as the distribution of goods is even more crucial at this time. High demand for space, coupled with restrictive planning for industrial development, is also leading to rental growth.
Physical retail also works better in Germany than in most other European countries. Although there has been a rise in online shopping, driven in part by the pandemic, German consumers tend to change habits incrementally, so we don't anticipate seeing a huge shift in demand.
On the other hand, there is stiff pricing across all sectors which can make Germany a difficult market to access. Historically there has always been a strong supply of domestic capital investing into core German real estate, through pensions and insurance firms for example, which in recent years have upped their allocations. Over the last decade or so international capital that traditionally looked at value-add opportunities in the German market has moved into the core and core plus markets. This has also contributed to prices rising in all sectors.
How will the German markets develop over the next 24 months? What factors are particularly important for the investment and rental markets?
Economic growth is key to the success of the German real estate market over the next 24 months, as is the outlook for global trade due to the country's export and distribution focus. A finite land supply that will be zoned for logistics development may need to be assessed, while more needs to be done to support the housing shortfall across the country, particularly in the affordable housing market.
A change of government could also be key as Germany needs more reforms. It is likely that a Conservative or Green government could turn out to be quite business-friendly, as well as pushing for green investments, which are much needed if the industry is going to work towards a net zero emissions future.
How transparent are the German real estate markets? Where is there still room for improvement in an international comparison?
Historically the German real estate market has not been particularly transparent, especially when compared to countries such as the U.S., the U.K. and Australia. Occupier markets tend to be quite transparent on the office and residential side, but less so in retail and logistics. Of course, if you're established in a particular market you tend to be able to find the information you need but it isn't publicised or made available to everyone. That said, the rise of bigger global real estate agents has contributed to more transparency.
How international are the structures and corporate cultures of German asset and property managers?
I think Germany is becoming one of the most international markets, but perhaps not as much so as the Nordics and the Netherlands. Many people in Germany have studied abroad and usually speak very good English and other languages. The international firms that have offices in Germany tend to be less conservative than domestic ones.
That said, everyone has become a lot more international over the last twenty years. The advent of the euro facilitated European cross-border investment and the German open-ended funds were pioneers in pursuing investment across the eurozone and the UK.
What ESG criteria do you as an investor apply to your investment properties?
ESG is at the heart of our investment processes and has been for over a decade. We place a specific emphasis on energy reduction and work to achieve this throughout our global real estate investments. Now, more than ever, our clients also want to integrate ESG measures into their investments to achieve their own targets, so we are able to work together on this.
Looking at Germany, it is a fairly 'green' country with a prominent Green Party, so investors here tend to be in tune with these issues.
What other acquisition criteria will be important for Nuveen in Germany in the next 24 months?
In terms of acquisition criteria, much depends on what our clients want. We will continue to invest in logistics where we have a strong franchise and track record, and we will keep working on building our housing capabilities over the next couple of years. We will also be targeting alternatives more, having already provided financing for a data centre development in Germany. Across all of our assets, ESG will become increasingly important and we will look at social impact in a more meaningful way, building upon our strong track record in America.
Do the more restrictive financing conditions play a role for you?
As a primarily core to core plus manager we tend to take fairly low leverage, so it doesn't play a material role in our acquisitions. Our long-standing relationships and good track record help us to obtain debt financing.
What do you expect from your German asset and property managers with regard to tenant management?
Property is a local business at heart, so we work to partner with our occupiers and build strong relationships to help them achieve their goals in a fast-changing world. Over the last few years, the role of the property manager has evolved to be more collaborative and we only anticipate this increasing going forward. To attract and retain the best occupiers, you have to be forward-thinking and proactive and manage the assets and relationships accordingly.
About: Timothy Horrocks is Head of Real Estate, Continental Europe of Nuveen Real Estate.
IC Immobilien Holding GmbH
Hanauer Landstrasse 293
60314 Frankfurt
Germany
Kerstin Valdeig
Management Assistant
Head of PR, Marketing & Communication
phone +49 69 767 258-280
ic(at)ic-group(.)de